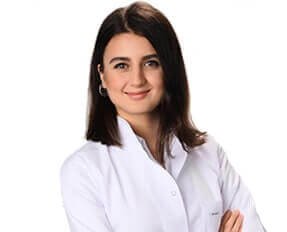 RD. Ecem Tuğba Özkan
Diet and Nutrition Specialist
Food Allergy and Child Nutrition Specialist
Born in 1992, Rd. Ecem Tuğba Özkan graduated from Ankara University, Department of Nutrition and Dietetics in 2019. In her undergraduate education, she made her graduation thesis on "Evaluation of the Nutritional Status of Hemodialysis Patients" and a detailed seminar presentation on "Resveratrol".
During her university education, she did her compulsory internships in Health Sciences University Ankara Atatürk Chest Diseases and Chest Surgery Training and Research Hospital, Ankara University Medical Faculty Cebeci Hospital and Ankara University Medical Faculty Cebeci Children's Hospital. She also completed her internship in the kitchen of Ankara University Hospital on institutional nutrition.
Rd. Ecem Tuğba Özkan joined the Istanbul Allergy family in September 2019. At Istanbul Allergy, she provides healthy nutrition consultancy on food allergies, weight control management, ketogenic nutrition, diabetes, hypertension and nutrition therapy in children and adults.