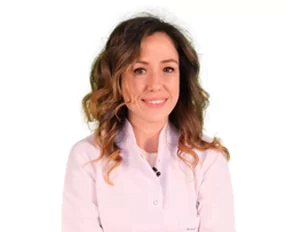 Specialist Gizem Atakul,MD
Pediatric Immunology and Allergy Diseases
Born in Burdur and completed his primary, secondary and high school education in Burdur, Dr. Gizem Atakul received her medical education at Akdeniz University Faculty of Medicine. He received his Pediatric Allergy and Immunology Minor Specialization at Dokuz Eylul University Faculty of Medicine, after which he specialized in Pediatric Health and Diseases.
Education Life
He graduated from Akdeniz University Faculty of Medicine in 2008. Between 2011-2015, he completed his 4-year Pediatrics Specialization Training in Dokuz Eylul University Faculty of Medicine, Department of Child Health and Diseases. He preferred Dokuz Eylul University, Department of Pediatric Allergy and Immunology, as the second in Turkey in the Minor Specialization Training in Medicine Examination, and received the Pediatric Allergy and Immunology Minor Specialization Training between 2016-2020. During my minor education, he served as an Invited Speaker in Allergy Congresses with International Participation and in 2017, the work he presented at the Pediatric Allergy and Asthma Meeting (Paam) Scientific Meeting held within the body of the European Society of Allergy and Clinical Immunology (Eaacı) in England is one of the two studies that received the 'Travel Grant' Award. Someone Has Been. He took part in many clinical studies related to allergic, immunological and chest diseases in children during and after his minor education; His Studies Published in International and National Scientific Journals.
Work life
Between 2008-2011, he completed his compulsory service in Tatvan District of Bitlis Province as a Practitioner and Family Physician. In 2011, she worked as a research assistant in Dokuz Eylul University Faculty of Medicine, Department of Child Health and Diseases. He completed his specialization training in 2015 and did his compulsory service in Pediatrics at Balıkesir State Hospital. She started working in Dokuz Eylül University Pediatric Allergy and Immunology Clinic in 2016. He worked as a Pediatric Allergy and Immunology Specialist at Malatya Training and Research Hospital in 2020. He joined the Istanbul Allergy Family in 2022.
Areas of expertise
Allergic Diseases such as Allergic Asthma, Recurrent Bronchiolitis, Allergic Flu, Allergic Conjunctivitis, Eczema and Atopic Dermatitis in Children, Food Allergies, Drug Allergies, Hives, Contact Allergies, Hereditary Angioedema, Mastocytosis, and Immune System Defects and Insufficiencies.
Diagnostic Methods Applied
Skin Prick Test, Patch Test, Respiratory Function Tests, Nutrient Loading Tests, Nitric Oxide in the Air Given, Drug Allergy Tests and Sweat Test.
Treatment Methods Applied
Current Recommendations for Protection from Allergic Diseases and Reducing the Weight of Diseases, Drug Treatments, Skin Care in Atopic Eczema, Subcutaneous Injection and Sublingual Vaccine Treatments in Allergic Asthma and Rhinitis.